321
people 👁️ing this randomly
5 Ways to Fight Racism and Xenophobia
UPDATED March 23, 2020
The Pulitzer Prize-winning food critic Jonathan Gold, best known for extolling the virtues of nomadic taco trucks and under-the-radar noodle vendors in his native Los Angeles, once said that he wrote "to try to get people less afraid of their neighbors."
With accounts of coronavirus-related anti-Asian discrimination and harassment spreading as rapidly as the COVID-19 pandemic, Gold's message is more important than ever. Across the United States, Chinese Americans are facing growing racism in the form of verbal and physical attacks. In February, Jonathan Mok, a college student from Singapore, reported being punched and kicked on the street in London. His attackers, he told the BBC, shouted, "We don't want your coronavirus in our country." Mok posted photos of his injured face on social media, writing, "Racism is not stupidity — racism is hate. Racists constantly find excuses to expound their hatred — and in this current backdrop of the coronavirus, they've found yet another excuse."
Racism is not stupidity — racism is hate. Racists constantly find excuses to expound their hatred — and in this current backdrop of the coronavirus, they've found yet another excuse.
Meanwhile, migrants and refugees around the world — some literally running for their lives  — continue to be met with suspicion and hostility. Gold saw food as one way to bridge the divide between people from different ethnic backgrounds. Celebrating other cultures emphasizes the fact that we are all people and sends the message that racism and xenophobia will not be tolerated in a civil society. It is our job, as people, as parents, as citizens of the world, to combat racism and xenophobia wherever we can. Here are five ways:
There is no real upside to a global health emergency, but it does serve as a powerful reminder that we are all in this together. Coronavirus is a threat to every human being; we must work together to halt transmission and protect the most vulnerable among us.
Stigmatization is cruel and counterproductive. Stand up for cultural diversity in your community by supporting local businesses run by immigrants. Read your kids stories that celebrate different cultures. Try foods and recipes from a range of culinary traditions. Watch films from other countries with your children. 
There has been a disturbing increase in hate speech among Europeans and Americans in recent years, often blaming immigrant and minority groups for the difficulties of their own countries. If you overhear someone tell a racist joke, speak up and let them know stereotyping isn't harmless. Let your children know they should feel free do the same. There's nothing funny about using "humor" to normalize dangerous ideas and perpetuate ugly stereotypes.
If you see something in the newspaper or on social media that reflects prejudice, write a letter to the editor or leave a comment to let others know that intolerant remarks are unkind and uncalled for.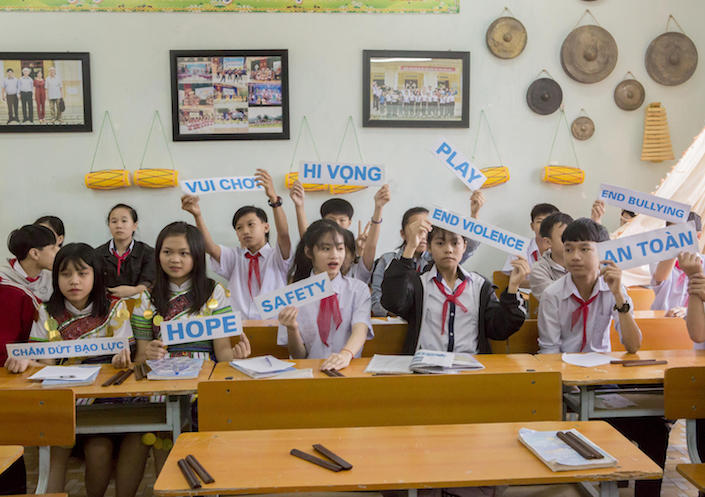 At a World Children's Day celebration in 2018, students at a UNICEF-supported school in Vietnam hold up signs showing some of their hopes for the future — dreams shared by young people everywhere. © UNICEF/UNI218897/Viet Hung
Prejudice and hate are not innate. They are learned behaviors — and they can be unlearned. Children absorb biases from the adults around them, and from the media, books and their peers. So set a good example. The process of countering negatives with positives begins at an early age. Talking about differences does not increase prejudice in children. Make sure children understand we are all human and we all have a right to feel safe and valued. Name-calling will not be permitted. 
If you see someone being harassed or physically attacked, it is important to help if you can do so safely. Make your presence as a witness known. Make eye contact with the person being attacked and ask if they want support. Don't escalate the situation. When the public stands in solidarity with immigrants and marginalized groups, bullies lose their power. Verbal and physical abuse is wrong and should not be tolerated. All people deserve to be treated with dignity and humanity.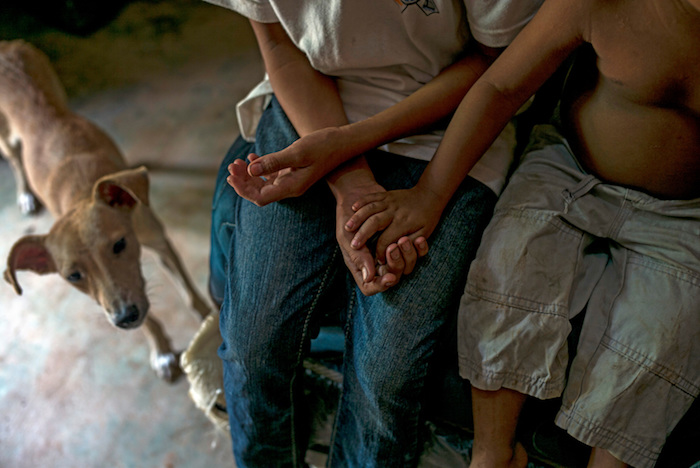 When he was 16, Alexis left his home in Omoa, Honduras to earn money to support his mother and his siblings (above). He fell off a freight train and lost his leg. "He left because of poverty," his mother said. "He told me he was going so he could help me and all the children I have. He wanted to study." © UNICEF/UNI218897/Viet Hung
UNICEF has highlighted and advocated tirelessly for children's rights around the globe for more than 70 years and knows that children need to be seen as children, first and foremost. Human rights are a collective promise made by all countries of the world, including those in distress. Children uprooted by violence, war and poverty need our support, wherever they are. All children deserve to grow up in a safe and healthy environment.
Please support UNICEF's work to save and protect children around the world. 
Top photo: A lonely figure walks the tracks on the outskirts of Reynosa, Mexico, across the Rio Grande from McAllen, Texas. Alone or with family members, thousands of Central American children and teens arrive in Reynosa every year, seeking safety and a better life across the border in the U.S. © UNICEF/UN030740/Zehbrauskas
---
5 Ways to Fight Racism and Xenophobia