How to Sell Products on Facebook in 5 Simple Steps
To sell products on Facebook, you first need a dedicated Facebook page for your business (not your personal page). Next, either connect your ecommerce platform to Facebook or upload your product category manually. Then, you'll have to market your products and your Facebook Shop through ads, contests, and boosted posts.
Using an ecommerce platform like BigCommerce makes it easy to sell on Facebook because you can quickly sync your product catalog and manage sales, inventory, customers, and orders in one place. BigCommerce is one of our recommended ecommerce platforms for selling on Facebook. It starts at just $29.95 per month, making it an affordable option that will integrate with all of your sales channels. Start a free 15-day trial.
Setup a Facebook Shop and start selling products in five steps:
1. Set up Your Facebook Business Page
To set up a Facebook Shop, you'll need to create a free Facebook Page for your business. You can't create a Facebook Shop in a personal Facebook account. The Facebook Shop feature is only available on Pages.
Creating a page is easy; you'll just click on the Create button at the top of your Facebook account and select Page.
Having a separate Business Page is crucial for creating a Facebook Shop. Having a Page also offers many marketing advantages over personal accounts, including:
You'll need to create a Facebook business page or makeover the one you have now. The reason for this is because most people will check out your business page to make sure your company is legitimate before making a purchase from you. You want these visitors to know, like, and trust your company, so take the time to polish your page.
Once your business Facebook page is complete, you'll create your Facebook Shop. For that, you'll need a way to list products and accept orders and payments through Facebook. The best way to do this is with a Facebook-friendly ecommerce platform.
2. Evaluate Your Options for Selling on Facebook
Facebook offers a complete in-app shopping experience via the fully integrated Facebook Shop. There are two options for selling on a Facebook Shop. If you already use an ecommerce platform such as BigCommerce or Shopify, you can connect your account to Facebook and sync your products. If you do not use an ecommerce platform, you can upload and manage products onto Facebook directly for free.
There are two options to consider when selling on Facebook:
Upload Products to Facebook Shop Yourself
You can enter products for sale directly to your Facebook Shop for free. Facebook has clear instructions that walk you through every step, including how to connect payment providers. For payments, you have the choice of PayPal or Stripe.
Pros of Managing Facebook Shop Manually
If you sell just a few items or only want to sell through a Facebook Shop, this might be all you need. The benefit is that it costs you nothing to add a shop and enter as many products as you wish.
Cons of Using Facebook Shop Manually
One downside is that you have to manually manage orders, and this can be time-consuming if you move a lot of product. You'll have to log in to Facebook to process and manage orders one by one. You also have to manually mark orders as shipped.
Another con is that you can only sell your products on Facebook, so you'll spend time entering products and have no other sales outlets. The ecommerce platform option gives you many more selling opportunities, plus a suite of time-saving order management tools.
Sell Products Through an Ecommerce Platform
Top ecommerce platforms like Shopify, Ecwid, and BigCommerce let you list and sell products in a Facebook Shop, plus many other places if you wish. What these platforms offer over the Facebook-only option is a full suite of product listings as well as automated order and shipping management tools designed to save you time.
Time-saving benefits aside, the biggest plus is that you can sell just about anywhere using an ecommerce platform, such as with your own website, Amazon, eBay, Pinterest, and blog posts. Going this route, the time you spend entering products into a selling system can deliver returns far beyond Facebook. Even if you don't want to start your own website or sell on places like eBay or Amazon at first, the option is there if and when the time comes.
Pros of Selling on Facebook Using a Platform
If selling online is a priority, you need to extend your reach beyond the Facebook audience. Ecommerce platforms let you do just that. They also make every ecommerce task as quick and automated as possible, from product entry to shipping updates. Plus, if you ship, or hope to ship, more than 10 orders per day, you really should consider this time-saving option.
Cons of Selling on Facebook Using a Platform
The downside is cost. In most cases, you'll need a monthly paid account with an ecommerce provider such as Shopify or BigCommerce. However, there are free options with providers like Ecwid and Spreesy, which we'll detail below.
We've covered the two primary ways you can list products to sell in a Facebook Shop: entering items directly to Facebook, or using an ecommerce platform to do this for you.
If the ecommerce platform option sounds like the right fit, read on to see our comparisons of several top providers. If working directly with Facebook Shop is right for you, skip down to Step 5 to see how you can market your products once your Shop is live.
Selling via Facebook Shop or Facebook Marketplace
Facebook Shop is a section of your professional Facebook Business page where customers can browse your catalog and purchase products. Facebook Marketplace is meant for individuals as a virtual tag sale to sell used items, list apartments for rent, and sell used cars. With Facebook Marketplace, you have to upload each item for sale individually.
With Facebook Shop, you can connect with an ecommerce platform that makes it easier to sell multiples of the same item and integrate with your other sales channels. You can also run ads to have your products from your Facebook Shop appear within the Facebook Marketplace.
3. Compare Ecommerce Platform Options for Facebook Shop
Shopify, BigCommerce, and Ecwid are top names in ecommerce, and all connect seamlessly to Facebook Shop, but they aren't the only ones. If you already sell online, there's a good chance your online store provider integrates with Facebook Shop too. If they do, you just need to follow their instructions to connect your store listings to your Facebook page.
First, let's take a look at your lowest-cost ecommerce platform options. These let you quickly launch a Facebook Shop for minimal costs, plus sell on other social media sites and online marketplaces if you wish. A few platforms even support a website at the listed prices.
Popular Ecommerce Platforms for Selling on Facebook
Again, there are plenty of ecommerce platforms that integrate with a Facebook Shop. Those we discussed above are our top picks for free or low-cost Facebook Shop options. Other ecommerce platforms include it in their standard, and generally more expensive, online store plans.
If you're looking to launch a Facebook Shop with a standalone website from the get-go, you'll want to consider the following full-featured ecommerce store platform plans. You can see a more detailed comparison in our article on best ecommerce platforms.
Ecommerce Platforms for Selling on Facebook & Website
Once you've settled on an ecommerce solution for your Facebook Shop, it's time to create your listings and take your store live.
Import Your Email List
"You'll want to import your email list into your shop app. Then set up a custom audience with the email list and use a reach-type ad campaign to run a sequential retargeting ad campaign at the audience. Pass everyone on the list through an eight-day cycle with new ads every two days so as to keep the retargeting content fresh and engaging."

— Alistair Dodds, Marketing Director and Co-founder, Ever Increasing Circles
4. Create Products & Link to Your Facebook Shop
Each ecommerce platform listed above makes it easy to enter product information and images, plus set up payment methods, shipping rates, and store information. However, it's a different process for each provider. We won't cover each in detail here since every platform we list provides startup tutorials that walk you through every step.
Instead, we'll cover the basic information that you'll use to create your product listings and store information pages, no matter the platform. Having this organized and ready beforehand makes the process of building your Facebook Shop listings quick and easy. Then we'll cover a few final steps to complete in your Facebook admin screen once your Shop is live.
Starting an online store can take some time, but it's relatively easy to do. You'll need to not only brand your store, but you'll also have to market it. Most search engines pull in your product descriptions when a user searches for a particular product. This means you'll also need to create accurate, detailed descriptions.
To create your product listings, you'll need to assemble four key components:
Good images of your products: A fancy camera or professional photography is not necessary to have great product photos. You may only need your mobile phone.
Detailed product descriptions: Don't be shy when describing your products. Good descriptions should be chock-full of details that sell your product, plus any sizing, measurements, weights, or other necessary details.
Product size and weight information: These numbers can be entered with your product information in most ecommerce systems so you can print accurate shipping labels. It's optional, but can be useful.
Product numbers or inventory stock keeping unit (SKU) numbers: You'll use SKU numbers or product codes to track products in your online store.
You'll also need to put together four pieces of store information to let customers know what to expect when they order from you. You can create one page or several in your online store to display this information.
The four pieces of information you will need to tell customers include:
Your store's contact information: Provide your email address and phone number for customer correspondence. Let them know when to expect a response and any customer service hours.
Customer service and privacy policy: Here's where you list your order fulfillment times, return, and privacy policies.
Shipping rates and policy: You'll set up shipping rates in your store dashboard, but it's nice to have a page that lists them so customers can see what you charge for shipping.
About us information: Brag a little about how you got started and what got you where you are today. This is a branding opportunity and a time to make your customer's purchase more personal.
Once you have this information gathered, you'll enter it into your ecommerce platform. If you're using Shopify to sell on Facebook, you just have to sync with Facebook from the dashboard of your Shopify account.
If you're using a different ecommerce platform, you'll log in to your ecommerce platform account and follow its getting started tutorial to set up your store information and product listing pages. Each ecommerce provider should have an online support page for how to connect your Facebook Shop. All ecommerce platforms should offer a complete step-by-step guide that leads you through the entire process.
Whichever ecommerce platform you choose, once it's connected to your Facebook Shop, the new Shop section will automatically appear on your Facebook page, like this:
Click on Shop to see all of your products. Source: The Horse Junkie Facebook Shop
If you have an existing Facebook page with a Shop Now button that's already connected to your website, you have one more step. From your Facebook admin page, you need to edit the button link to connect to your Facebook Shop. To do this, click the button in your page admin screen. It will give you an option to change the link to your Facebook Shop, like this:

You'll click on Edit Button to change what your button text says. Source: The Horse Junkie Facebook Shop
After all of the above is complete and your Shop section appears, you probably won't see your products immediately. Facebook reviews all new Shops to make sure images and content meet Facebook Shop guidelines. Essentially, the guidelines state that you need images and accurate descriptions for each product.
It can take 24 to 48 hours for your Shop to be approved and populate the Shop section. Once approved, as you add new products, they should automatically appear within 20 minutes or so. If not, you can re-synchronize your listings from your store dashboard to send new items to Facebook.
This is how to re-synchronize your listings with a Shopify store: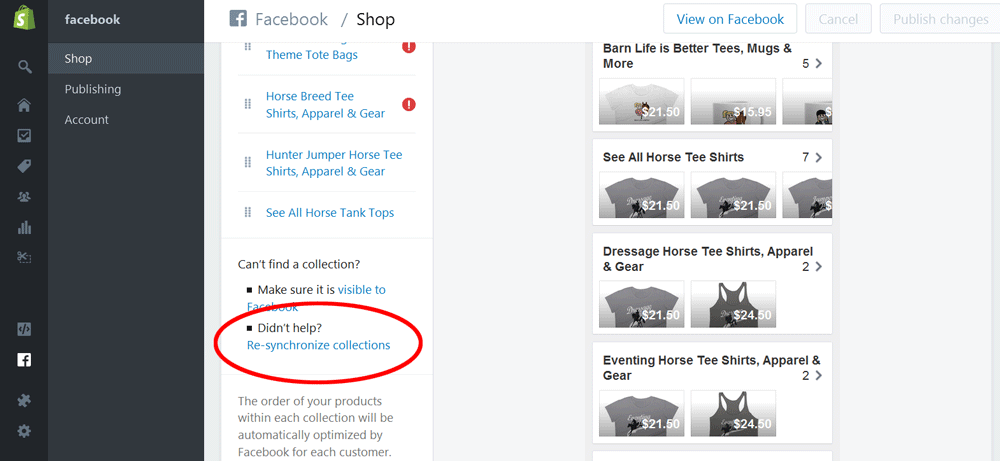 If you need to re-synchronize your store, click on Re-synchronize collections.
Once your products are approved and live, you're ready to start selling. You can promote your shop, grow your Facebook audience, and begin to make sales.
Use a Product Feed App
"In my experience, the best way to sell on Facebook using a Facebook Shop is to use a product feed app to keep sync with inventory and combine it with page-like ads, which are pretty cheap (even if you only display them to your most targeted audience). They can also drive a lot of traffic to your Facebook page, where your new fans can start shopping and get familiar with your brand.

"The key is to split test your ads. A good ad can get relevant likes to your page in well under 0.05 cents per like. Once you have a big enough audience, every new product you'll upload will sell as soon as you post it."

— Eric Haim, CEO & Co-founder, Stilyo Apps
5. Market Your Products for Facebook Shop Success
There's one really nice thing about having your products listed for sale in your Facebook Shop: Your products and potential customers are already there. According to Brandwatch, there are over two billion monthly active users on Facebook. Not only that, but 68% of U.S. adults are on Facebook too. Since 40% of Facebook users don't like any brand pages at all, this means that paid advertising is the only way that you can reach these users.
Your Facebook Shop products are primed and ready for promotion to your Facebook followers and countless potential customers. With your products already housed on Facebook, you can easily and quickly select certain products or groups of products to promote via Facebook posts and ads.
Plus, your viewers don't have to leave your Facebook page to learn more about your products or to make a purchase. This increased engagement within Facebook leads to more sales for many Facebook Shop owners. This is why Facebook Shop is fast becoming a favorite sales channel for online sellers, big and small.
There are many ways, both free and paid, that you can market your Facebook Shop products to followers and larger audiences, including:
Feature products and specials via boosted posts, which are regular posts that, for a small fee, can reach a large, targeted audience.
Run Facebook ad campaigns with featured products.
Distribute offers and host contests to engage your audience and attract new viewers to your page and Facebook Shop products.
In fact, with your Facebook Shop in place, your Facebook marketing and advertising deserves some real attention. The first step is marketing your small business on Facebook for free. Then, start exploring Facebook's paid advertising opportunities to give your business maximum exposure for a relatively small investment.
An example of a Facebook Store selling succulents
How to Sell Through a Facebook Group
Facebook has a feature called buy and sell groups, which is a group specifically for the purpose of selling products and services. Some of these groups are specific to location, while others are niche groups. For example, a group might be just for virtual assistants selling ghost-written content to bloggers, mushroom spore traders, or fans of Rae Dunn selling their pottery collections to others.
Follow these steps to begin selling in a Facebook buy and sell group:
Sign into Facebook and click Groups from the left menu.
Choose the buy and sell group you want to post your listing in.
Click on "What are you selling?"
Give the title, description, location, and cost for your item and click Next.
Pick the audience you want to see your post (you can select to have it post in the group and on the Facebook Marketplace).
Click Post.
You can also add photos to your post.
Frequently Asked Questions (FAQs) About Selling on Facebook
Once you learn how to sell on Facebook, you'll find it's a relatively straightforward process. However, there are certain considerations on the types of products to sell. Plus, Facebook is constantly adding new tools and services, and it can be hard to tell what is right for your business.
Here are some of the most frequently asked questions for setting up a Facebook Shop:
How do I sell on Facebook Marketplace?
To sell on Facebook Marketplace, visit www.Facebook.com/marketplace and click "Sell Something" on the top left. To sell on Marketplace, you don't need a Facebook business page, just a personal account. Facebook Marketplace is more of an online tag sale or Craigslist alternative for individuals who want to sell specific items such as used clothing, cars, and housing rentals. If you are a business, it's recommended that you use Facebook Shop.
What are the risks of selling on Facebook?
The risks of selling on Facebook are relatively minimal, especially if you create a Facebook Shop, because your product catalog will go through an approval process before being posted. The biggest issue sellers run into on Facebook is selling counterfeit or trademarked items through Facebook Marketplace, which can result in the suspension of your personal Facebook account. As long as you are selling your own products, there is nothing to worry about.
What products can I sell on Facebook?
There are a few guidelines on what you can and cannot sell on Facebook. First, it has to be a physical product, not an "in search of" post, services, or event tickets. You also cannot sell any healthcare-related items, even basic supplies like first-aid kits. Facebook also does not allow animals to be sold on its platform. As a best practice, your items need to match their photos and descriptions, you cannot use "before and after" photos to advertise weight loss products, and you cannot violate any trademark laws (such as using a copyrighted logo).
What is Facebook Business Manager?
Facebook Business Manager is a free tool by Facebook that allows businesses to manage their pages, advertisements, posts, and products in one place. Facebook Business Manager is a great tool if you have multiple employees who need access to your business page, or if you manage multiple Facebook Business pages.
Can I use Facebook Shop to sell on Instagram?
Yes, in order to sell products directly through Instagram, you need to have a connected Facebook Business page with an approved product catalog. So, if you already sell on a Facebook Shop, connect your business Instagram account and your products will also be available to link to posts to your Instagram Feed and Story.
Bottom Line
Selling products directly to your Facebook audience is easy using the Shop feature included with every free Facebook business page. Online store platforms that integrate seamlessly with Facebook offer the easiest Facebook Shop solution, especially if you're new to ecommerce. From there, Facebook provides many free and paid marketing opportunities to promote your Shop. With a solid ecommerce platform and a good marketing plan, you'll start to see your Facebook audience grow and, more importantly, start making sales.
Using an ecommerce platform is recommended for businesses selling products on a Facebook Shop, and is all but necessary for businesses selling on multiple channels, such as Facebook, Amazon, Google, and through your own website. BigCommerce is a great ecommerce platform that makes it easy to manage multiple sales channels, saving you a great deal of time for as little as $29.95 per month. Try it free today.
---
How to Sell Products on Facebook in 5 Simple Steps