8 Wastes of Lean | How to Identify and Eliminate Them
Lean project management aims at maximizing business efficiency by the concept of incremental improvements across different stages of the project. This helps in achieving customer satisfaction more efficiently and reducing extra effort by the team to achieve the same results. Lean project management can sometimes be simply referred to as 'Lean'.
What is waste in lean?
Wastes in Lean Project Management are all those activities/entities which can be removed from the workflow stream without impacting its productivity negatively. Identifying and eliminating lean wastes goes a long way in running a successful project management.
What is value in lean?
The concept of 'values in Lean' comes in from project management methodology and is understood as, "everything the customer is willing to pay for in order to achieve satisfaction". Lean project management is heavily focused on customer satisfaction.
8 wastes of lean explained
Transport
Inventory
Motion
Waiting
Overproduction
Over-processing
Defects
Non-Utilized Talent
Once the causes of these wastes are understood clearly, the company can focus on optimizing their processes by eliminating wastes from these processes.
Here's how these eight wastes of lean impacts efficiency: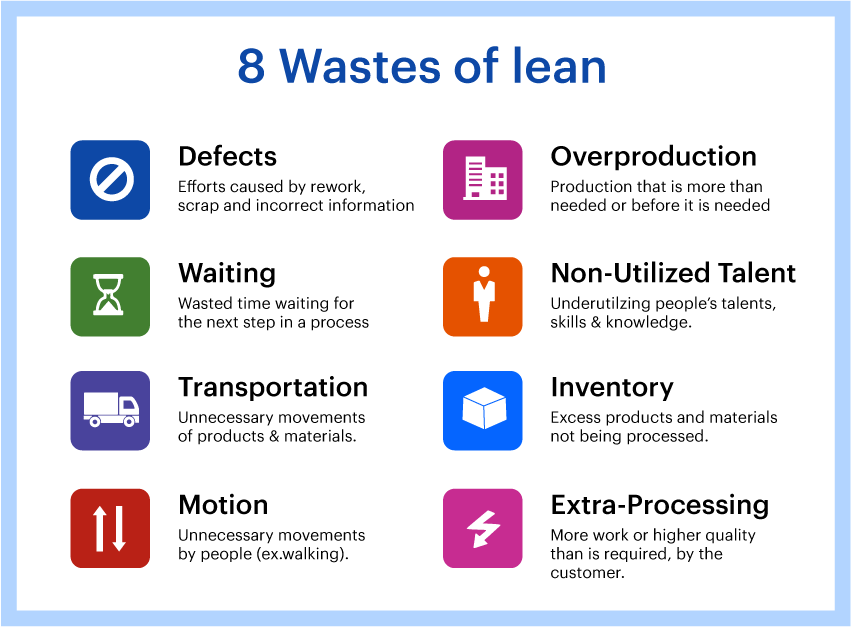 1. Transport:
Often resources like people, tools, inventory, and final products are moved from one place to another but no value is added to the product. Unnecessary movement can lead to product damage, wear and tear of equipment, and exhaustion of workers.
In addition to adding overhead costs, excessive movement can negatively impact the quality of parts/products. Also, the excessive inventories seldom contribute to adding value for the customer and improving the product.
Creating an efficient flow of work and enforcing WIP limits can help avoid this kind of waste.
---
8 Wastes of Lean | How to Identify and Eliminate Them